Nikki Morrow
August 3, 2018
Original Article can be found here at onlyinark.com
As summer continues to press on, our family is in pursuit of activities involving cooler temperatures. While we enjoy Arkansas scenery, being able to head indoors is always a welcome respite from the heat. Fortunately, we stumbled across a childhood memory on the north side of Mountain View, not far from the Ozark Folk Center. Mellon's Country Store, full of memories for many locals and tourists, has been in business since the early 1990s.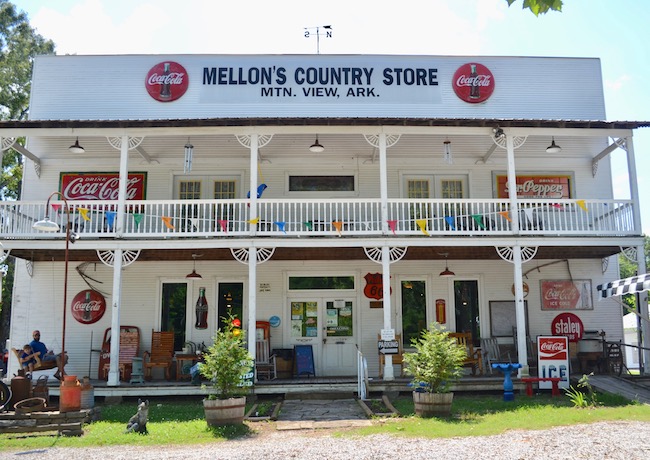 As we visited the store, we were able to chat with the original owner, Don "Pappy" Mellon. He told us how a small wooden train whistle built his country store. Pappy and his wife Suzy moved to the area from Colorado. Having loaded all their possessions in a Volkswagen van destined to make a change in their careers, they eventually landed in Mountain View, Arkansas.
Pappy worked for Grandpa Jones, banjo player and "old time" country and gospel music singer, from Hee Haw and Grand Ole Opry fame. He and Suzy saved their earnings and built a shop to craft wooden train whistles and toys. Once the 7,000 square foot shop was finished in 1988, they continued to save as they sold thousands of whistles and toys around the country.
Finally, with enough means to expand the space, Pappy built the vintage-style country store he had in mind from the start. Pappy and Suzy continued to work their toy shop and run the store for 21 years until their retirement. It is plain to see that Pappy is so proud of the humble beginnings and hard work it took to plant their dream.
Inside Mellon's Country Store you will find an array of local Arkansas talent and old-time treats. The current owners, Tray and Buffy Campbell, fell in love with the area quite the same as the Mellons did. They work hard to keep the original, welcoming atmosphere alive with offerings similar to what Pappy and Suzy intended. All around the store you can see the smiles and hear the laughs of locals and tourists alike. One visit to the store and you can see why the slogan "3 miles ahead, 50 years behind" fits this cute country store perfectly.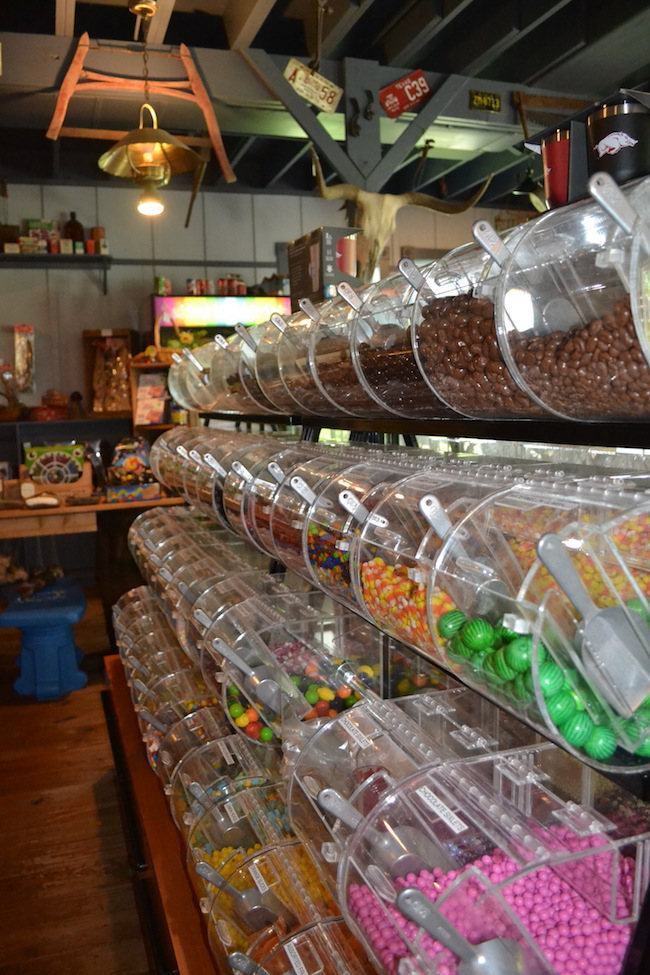 The merchandise continues to boast of local talent in a variety of products. You can find some unique Arkansas-made items ranging from small food products to large decorative items. You will find an assortment of concrete art, cedar furniture and figurines, knives, artisan wares, homemade lye soaps, and of course, wooden toys and wooden train whistles.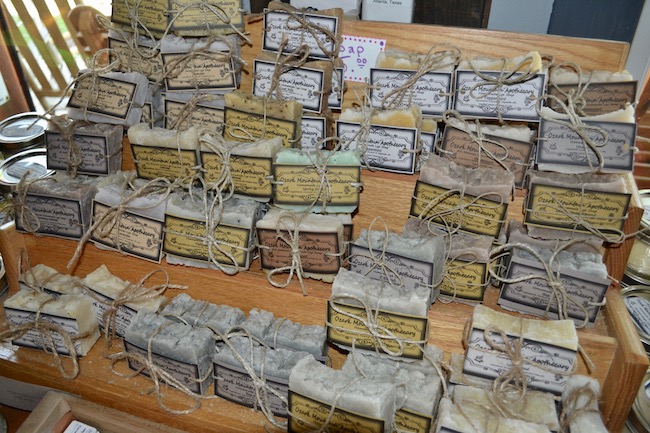 Mr. Mellon not only built a store full of memories and smiles but has also been entertaining folks for decades with the unique blend of old-time country music. With Mountain View proclaimed the Folk Music Capital of the World, it is easy to see how music became part of the store's history ranging from porch pickin' to show bookings in the Hole in the Wall Theater. Every day you are invited to bring your instruments and let your gift shine on the porch or at the front of the store. On Friday and Saturday evenings, a variety of musicians showcase their talents in the theater. The music ranges from folk and bluegrass to country and gospel.


Since they bought the store, the Campbells have worked hard alongside the Mellons to continue the welcoming atmosphere which brings in folks from near and far.

 It would not be unusual to find yourself rocking in the chairs alongside Pappy, still sharing his tales and listening to music on the porch. 
This summer I hope you take a step back in time as you build your own memories at Mellon's Country Store.

"Mountain View: the third time you visit you bring your furniture." ~Pappy
Lydia Sartain, Your Local Dietitian, is a dietitian who desires to make healthy simple even for the fullest of schedules. As the owner of Sartain Nutrition, she understands busy makes healthy hard. Her website was formed to bring healthy to you with easy recipes, meal plans, and health coaching. Adding her blog seemed to be a natural fit, since she has always enjoyed writing and good stories. Her favorite people call her wife and mommy. She loves Jesus, a good cuppa' joe, chatting, waking early, being outdoors, traveling with her family, daydreaming with her hubby, wrestling her boy, writing, teaching, planning and making recipes. Be sure to find her writing about all the good things in life on her blog at yourlocaldietitian.com.